Well, it took some time, but it's finally here – new Godville app redesigned for iOS7. The app was "flattened out" to make it look better on the latest mobile OS from Apple and it has some new cool things too. On iPhones is has two secondary screens that can be revealed with handy swipe gestures: swipe left to reveal Friends/Guild Council and swipe right to bring up the Game's Menu. Remote Control moved closer to the Diary, but here is the cool thing – most of the time you can avoid opening it, as now there is a brand new Mini-Remote! Press and hold the Remote button and then drag to send an influence of your choice. That's how you show your divine reaction while still reading a diary.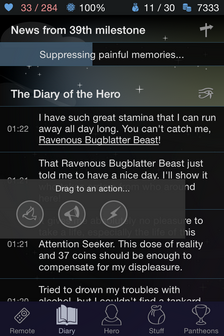 Mobile web pages got their share of facelifting and some new perks too:
much easier voting – dupe/offensive options were moved under the long press gesture (or swipe left when on Windows Phone).
voting progress is now displayed on your personal ingenious pieces page while idea is still being voted.
Finally, a fresh batch of awesome phrases has arrived into the heroes' diaries. In the mean time, the Spring Content Cleaning is underway. If you have that one phrase that you wish weren't in the game, it's a good moment to mention them in this forum topic.