Godville is slowly but surely expanding on both width and depth. It all started with a browser game, then iPhone, Android and even Windows Phone apps were released. Еvery god should have easy access to their hero, right?
So let's welcome a new addition to the herd – official Telegram bot @godvillegame_bot.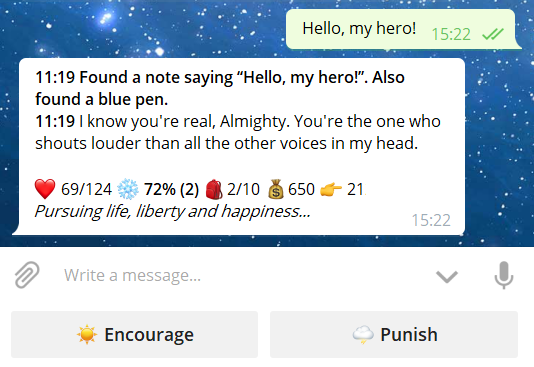 It's not a full-fledged alternative for the mobile app or the web site, but it could be useful for quick status checks, revivals or occasional influences. It should also be handy if push notifications are not very reliable and you want an alternative notification channel. If you're just beginning your divine journey, treat this bot like a demo. You can learn more about the bot in this forum topic.
A bit unrelated, but certainly good news for those with a Lab, already collecting boss parts. Unlike dungeons, where boss parts are plenty, finding them in ZPG-mode was not so easy. Not anymore. From now on, a hero can get a boss part for lab while fishing. Rumor says that various parts can be found in ponds and lakes, even from the really strong bosses.
Finally – as you noticed, the winter is here. In this time of the year heroes enjoy fishing without a bait and sailors can preserve their precious supplies on sea icebergs.