Some time ago, almost by accident, we've got hold of a Windows Phone device. It turned out to be surprisingly good, so we thought that we'd like to have a Godville app for it. Fast-forward a few months, and today we're happy to announce a full-blown, native Godville app for Windows Phone 8!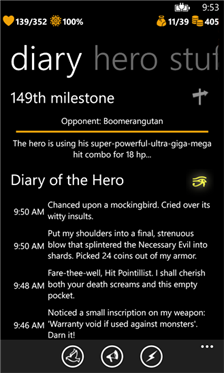 Not only does it supports all the bells and whistles you can find in other Godville mobile apps, it also utilizes the power of the platform with support of don't-call-it-Metro UI, live tile notifications, lock screen support, etc. It even features a new experimental Remote Control to make poking your hero even more enjoyable! So, if you have a Windows Phone, get the new app from the store and let us know what you think in this forum topic or via Ideabox.
Regardless of the mobile news, make sure to check out this dueling tournament organized by our fellow players, with some nice prizes involved!