It's been a while since our last post, but finally we're back with a big portion of good news. Get ready for a long post and… read on!
The first is… the iPad. Yes, you guessed it right, the all new 2.0 version of our iPhone app now natively supports the iPad. Instead of just scaling up the existing iPhone interface for a bigger screen, we decided to completely remake it to better utilize the screen estate the iPad provides. It took us quite a while, but it was totally worth it. Check it out: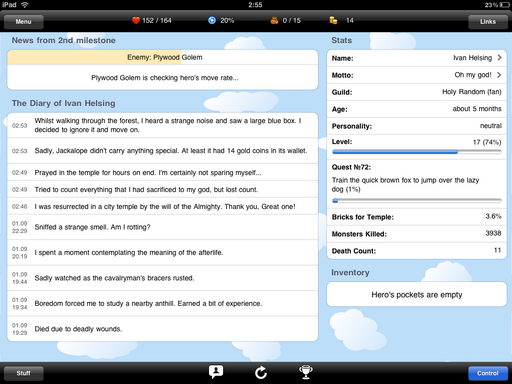 For those who are on the iPhones, there are cool new features too: landscape orientation is available on practically all screens of the app. (and if for some reason you don't like the new screen auto-rotation feature – there is a switch to restore old behavior in Menu -> Profile). Also, iPhone4 owners can finally enjoy new icons that had been redrawn for Retina Display. Godville App 2.0 is already in the AppStore, go check it out!
GodWiki
Did you notice the new link in the top menu? Yes, now we also have our very own wiki. Thanks to Spode and some other folks, our wiki already has more than 70 articles, including the GuideBook to help you look around. The wiki is integrated with the game, accessible from the browser, iPhone and iPad and can be edited by everyone whose hero has reached level 15.
Turbo mode
Finally, we want to mention Turbo mode. Some of you were already using it, while others didn't really know about it. Well, Turbo mode significantly improves responsiveness of the hero page when you interact with it. Let's say you send a god voice to your champion. If turbo mode is disabled, you'll probably see a reaction on your action on 30-60 seconds, but if turbo mode is enabled, you'll see the result in 1-3 seconds. Pretty cool, huh? Not only does it update the page faster, it also uses less bandwidth and reduces the load on our servers. Recently we worked on some issues that turbo mode had and now we believe that it's good enough to be enabled by default for everyone who is not using it yet. But don't worry, if by some reason it fails to enable itself on your first access of the "hero" page, it should gracefully fallback to the standard update mode. We've written a detailed description on how turbo mode works and how to troubleshoot it if it doesn't in this forum topic. If you're experiencing issues with it, let us know.